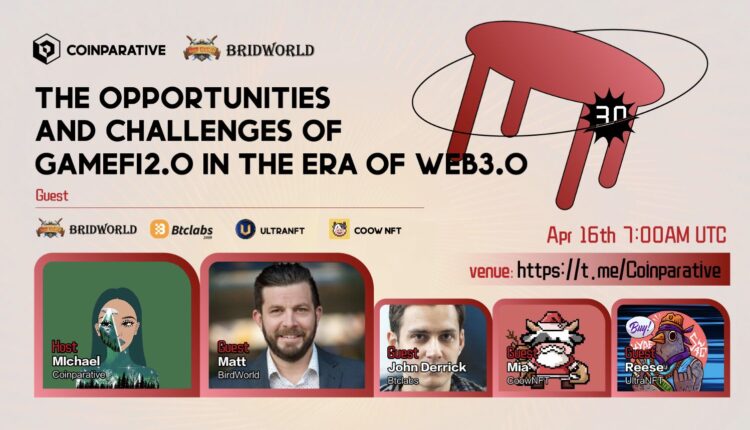 On April 16th 2022, Coinparative had a great original conference topic The opportunity and challenge of Gamefi 2.0 in year 2022 with Bird World BTClabs CoowNFT and UltraNFT, Thousands of people watched and participated simultaneously online.
The following is the conference content:
Michelle: Hello and welcome to Coinparative's online panel discussion on "The opportunities and challenges of GameFi2.0 in the era of Web3.0". It is my great honour to be here and let's welcome John Derrick, head of BTC Labs, Mia, Operations Manager at UltraNFT, Reese from CoowNFT, and Matt from Bird World. Welcome! My name is Michelle, first, let me introduce Coinparative. Coinparative specializes in digital News and research on cryptocurrency, Digital Assets and Blockchain, Coinparativeis is a media and research outlet that strives for the highest journalistic standards and abides. To provide global users with the most professional content and data.
Michelle: Now let's welcome John Derrick, head of BTC Labs, to give us a speech. Welcome, John Derrick
John Derrick: Hello everyone, I'm John Derrick. Nice to have Mia, Reese and Matt here. Let me first give a brief introduction about myself and the BTC Labs. I am the founder of BTCLABs. I started my career in Goldman Sachs in 2012 and owned my first Bitcoin in 2013. I was deeply attracted to Bitcoin. In 2015, I founded BTCbar, an American Bitcoin club, hoping to contribute more to the crypto industry and have a chance to be involved in the genesis of another "Bitcoin". And then I started establishing BTCLabs in 2018, incubating and serving over 26 crypto projects in the United States, helping these projects raise over $1.365 billion in funding with a maximum market cap of over $38 billion. In February 2021, BTClabs Singapore was established to serve crypto enterprises in the Asia-Pacific region, assisting in crypto innovation and financing services.
Michelle: BTC Labs is a very old investment and research institution. The founder of BTC Labs started to layout BTC in 2014 when bitcoin was still in a turbulent debate. For BTC Labs, they seem to see the past.
John Derrick: I think now it's the time for the explosion of some new concepts such as  Metaverse and GameFi. In my opinion, such explosions usually follow the acts by leading capitals, allowing huge space for users. Therefore, our team have also been preparing for being a key part of Web 3.0 and Metaverse. So this year, we have been working with some new metaverse and Web 3.0 projects.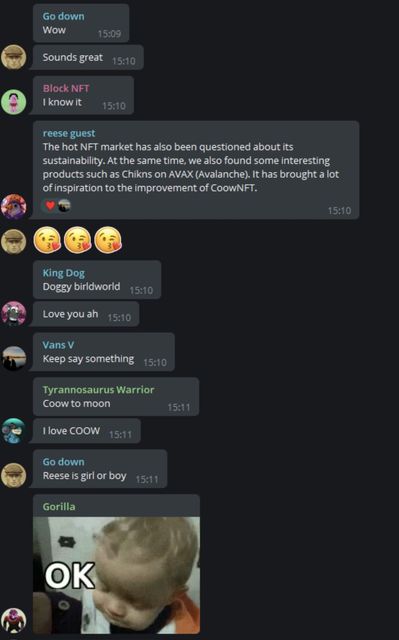 Michelle: Thank you, John Derrick for your speech. Really nice to have you here. And I have a question for Reese.  Reese, the NFT market is a hotspot in the crypto ecosystem right now. Can you briefly talk about the current NFT market?
Reese: Hi guys, I am Reese. I'm sure everyone knows how hot the NFT market is right now. Besides the Well-known market hot spots such as Looksrare and Opensea, we also studied many other NFT ecologies on the public chain. However, most NFTs in the market are not applied to economic models and are without a relatively stable economic system, which led to the vast majority of NFT quickly disappearing from people's sight. The hot NFT market has also been questioned about its sustainability. At the same time, we also found some interesting products such as Chikns on AVAX (Avalanche). It has brought a lot of inspiration to the improvement of CoowNFT.Our CoowNFT draws on some ecological ideas of Chickens, Thus, NFT can be more closely combined with an economic model, achieve a closed-loop development of NFT-Platform-Game, and make NFT really more valuable. We appreciate that the chicks on AVAX have created great wealth for early holders.
Michelle: Your project is named CoowNFT. Can you briefly introduce to us what is CoowNFT?
Reese: Yeah, everyone loves Coow and wants to be a cowboy. CoowNFT is a comprehensive platform integrating NFT staking, Launchpad, gamefi and other functions. Our Coow's creation is very interesting. We give him various skills, attributes, different grades and element composition.We will also design games based on its characteristics to realize PVE (Player Versus Environment) interaction. It is worth mentioning that we chose the pixel style to show our Coow. In our opinion, pixel style can better express our focus and pursuit of products.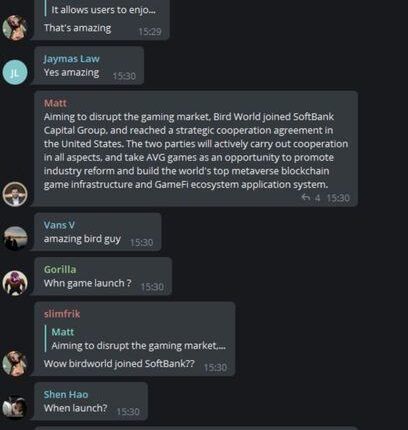 Michelle: Thank you, Reese, for your nice explanation of what is CoowNFT. Mia, can you give us a brief description of the UltraNFT?
Mia : With the NFT platform we will set up on our own website, users can mint their own nft and put them on sale on the nft marketplace on our website. At the same time, we also made plans for rapid expansion with additional Dapps to cover more NFTs. These will include nft collectables, games, nft farming and staking. We will create our unique NFT collections in different categories and include them in our special sales section. With Ultra NFT, you will make a profitable investment and support natural living. Our UltraNft game section will consist of 3 preparation stages, and eventually, you will be able to use the nft cards you collect and earn during these stages, which are as follows:
Egg section
Special nft egg
Development of special nft
At the end of these stages, we will create a system that will evolve like a Card game.
Michelle: Thank you Mia. Now we get to know your project better. Now let's invite Matt to introduce Bird World.
Matt: Hello guys, I am so glad to be here as the guest speaker for this panel discussion. I have been involved in the crypto industry for over five years. It seems everyone is looking forward to our project,now let's get started.
Michelle: Please introduce Bird World to our community?
Matt: Thanks for your interest in the project. Birds World is a decentralized AVG game crafted by a development team from multiple countries, including Blizzard, which incorporates blockchain, DeFi, GameFi, metaverse,  DAO, and other technologies. It allows users to enjoy wonderful and rich game experiences, and they can also earn while playing. In the future, Bird World will integrate competition, interactive entertainment, mobile app and desktop version through blockchain and tokenization, realizing the integration of the online virtual environment with the physical environment, creating a borderless entertainment world and an unprecedented entertainment experience for global users. Aiming to disrupt the gaming market, Bird World joined SoftBank Capital Group and reached a strategic cooperation agreement in the United States. The two parties will actively carry out cooperation in all aspects, and take AVG games as an opportunity to promote industry reform and build the world's top metaverse blockchain game infrastructure and GameFi ecosystem application system.
Michelle: Bird World has come up with a very interesting concept: creating money. Can you introduce this concept to everyone?
Matt: This is a great question. We all know how precarious the NFTs work, especially with various trends in staking, gaming and collecting. We won't lie to ourselves and pretend the only direction to go in is boring; therefore, we allow users to create their own NFTs based on initial birds' NFTs. Gamers could level up or power up their NFTs skill and get more earnings than they would expect. Different gamers will result in different NFTs which come to create NFTs as valuation. Paying out rewards in $LAB is a conscious choice by the team to safeguard users no matter what the market conditions. Of course, we also have the risk that should there be a burst, the yield generated would be lower – however, it would not result in any loss to users.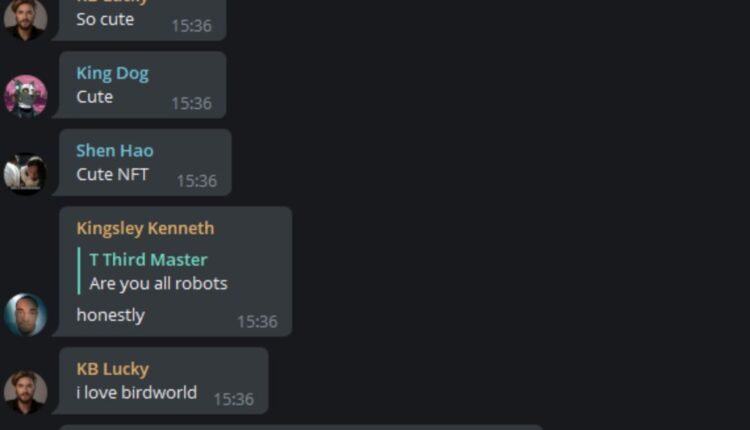 Michelle: Compared to other Games, what are the advantages of Bird World?
Matt: The concept of Bird World is simple, and now we've developed it, almost obvious. Bird World responds to the challenge of NFT utility gaming. Besides the game, we believe NFTs should have the same potential as other crypto-assets to earn NFT holders' yield, in a meaningful and engaging environment.
In Bird World, NFT holders have two options:
Stake their NFT, earning yield and Bird World collectable cards
Customize their NFT in the game by powered-up skills, to participate in staking again, earning tokens as a reward.
Bird World isn't exclusively for NFT holders – those who don't own NFTs are critical to the outcome of $LAB staking, earning $LAB in the process. Bird World bridges the gap between NFTs and GameFi, enabling interoperability between a multitude of NFT projects. The possibilities for growth are limitless with the various yield and gaming strategies embedded in our dApp. We're excited to have the community join us as we create a greater purpose for NFTs plus GameFi!! if you want to know more about Bird World, please check the below social media link:
Website: https://birdworld.io/
Twitter: https://twitter.com/The_BirdWorld
Telegram: https://t.me/birdworld_meta
Discord: https://discord.gg/NhcvRzknay
Youtube: https://www.youtube.com/watch?v=yk-CzNIIPUY
Medium: https://birdworld.medium.com/
Michelle: In the past few months, The  NFT and Gamefi markets have grown wildly, and the BSC ecosystem is expanding rapidly. As NFTs and Gamefi projects, it's really important that we work together to build a sustainable, fast-growing ecosystem. We had a great time here. Now we have come to an end of this great discussion. Once again, thank you, guys. We look forward to seeing you next time.