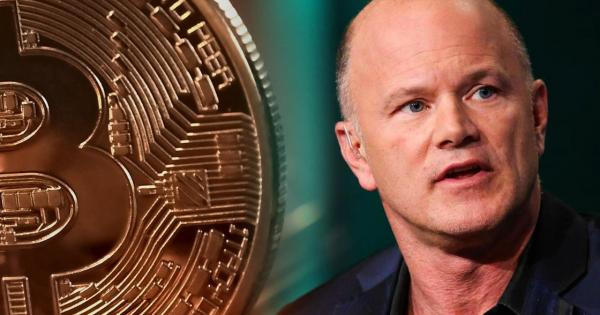 Bitcoin is the least volatile cryptocurrency in existence, and the value of the asset will only stabilize more over time. This is the opinion of Galaxy Digital CEO and multimillionaire investor Michael Novogratz.
While participating in Squawk Box on CNBC, he was reminded that bitcoin (BTC) has risen 66% since last year. And the value of the first cryptocurrency has already rolled back 30% from its November record, when one coin was trading at $69,000.
As more big companies invest in bitcoin, its volatility is decreasing
Novogratz was asked whether the arrival of institutional investors to the crypto market could "smooth out" bitcoin's instability. Against this backdrop, he pointed to BTC's stability relative to altcoins.
"As more and more big companies invest in bitcoin, its volatility is decreasing, and that's a very good thing. Still, bitcoin cannot be called a transaction currency, it is more suitable for long-term investments," Novogratz stressed, admitting that sitting Lightning makes it easier to pay for goods and services in BTC.
It is worth noting that as of December 27, the BTC exchange rate was up 11.3% for the week. According to the cryptocurrency exchange WhiteBIT, one token is trading at $51,300.
Michael Novogratz called BTC "digital gold"
Against this backdrop, Michael Novogratz suggested that speculative investors seeking quick profits could switch from bitcoin to other coins with potentially higher growth chances. This, too, is due to the volatility of the first cryptocurrency.
The investor again called bitcoin "digital gold." Nevertheless, he advises investors who are interested in short-term investments to pay attention to tokens with higher growth potential.
In addition, the head of Galaxy Digital predicts that up to 75% of altcoins will disappear from the market. At the same time, he is confident that bitcoin will not only stay, but will accelerate the transformation of the entire financial infrastructure on the planet.
However, apparently the second most capitalized cryptocurrency Ethereum is not among the tokens threatened with extinction. In another interview earlier in December, Novogratz called Ethereum the most successful cryptocurrency project because it is based on technology.
Another prediction by Michael Novogratz was previously reported. The investor predicted bitcoin to fall to $30-40 thousand in 2022. However, in the medium term this should not be feared, because in the future the cryptocurrency will grow.