How Halloween can scare Bitcoin and cryptotraiders.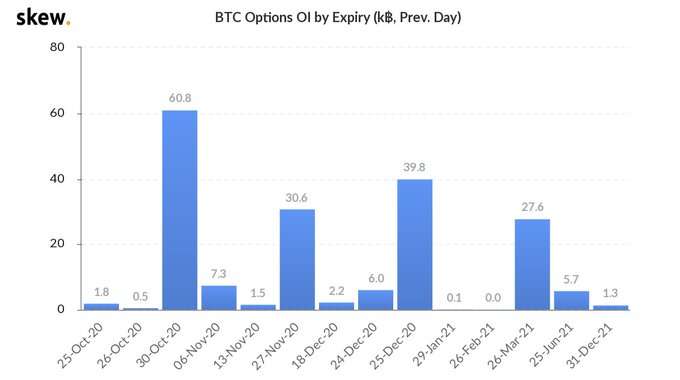 Halloween Eve may turn out to be alarming at times for Bitcoin in the face of increased market volatility and the fall of Wall Street.
Volatility returns to the crypto market. US stock indexes survived the day before the hardest day in recent months. Against this background, Bitcoin (PTS) also lost almost 4%, although at the time of writing it was already vigorously recouping losses.
Halloween and the ghosts of futures
Halloween 2020 may also be a frightening time for cryptocurrency, and not at all because of the return of the ghost of Satoshi. Nerves can rub Bitcoin futures.
October 30 on the market will be the export of option contracts for bitcoin in the amount of 60 thousand. BTC. This amount is equivalent to about $750 million. This was recently reminded to its readers by the analytical resource Skew
In addition to Bitcoin options, at the same time, options will be exported to ETH in the amount of $76 million.
In fact, such contracts are bets on what the Bitcoin rate will be on this day. On the day the contract expires, those who guessed the direction of the currency exchange rate will win, and the losers will lose their money. Many market observers believe that such events have an impact on cryptocurrency and cause an increase in volatility.
Should I be afraid?
On the other hand, the market has more than once passed such events. So, in September, contracts worth $1 billion were subject to closure, but then this could not significantly affect the price of Bitcoin.
However, this time everything may be different, since the markets are already scared. This probably happened against the background of negative dynamics in traditional markets. As a result, the world's main cryptocurrency lost 3.53%, which negatively affected the capitalization of the entire digital asset market.
Following Bitcoin, almost all cryptocurrencies reached south. ETH weakened by 2.56%, XRP – by 2.49%, Litecoin – by 4.33%. The main victim was the anonymous coin Monero, which sifted by 5.12%.
Meanwhile, the Dow stock index suffered its maximum intraday losses since June, having lost 943 points, or 3.4%, in the previous session.
Investors fell into despondency due to a combination of such adverse factors as the upcoming US presidential election and the deterioration of the world's leading economies in the second wave of the COVID pandemic.
The current recovery only once again proves that volatility in the markets has intensified. According to the CBOE volatility index, they have not shown such turbulence since the beginning of summer. Accordingly, they can respond to any factor, including the export of options.