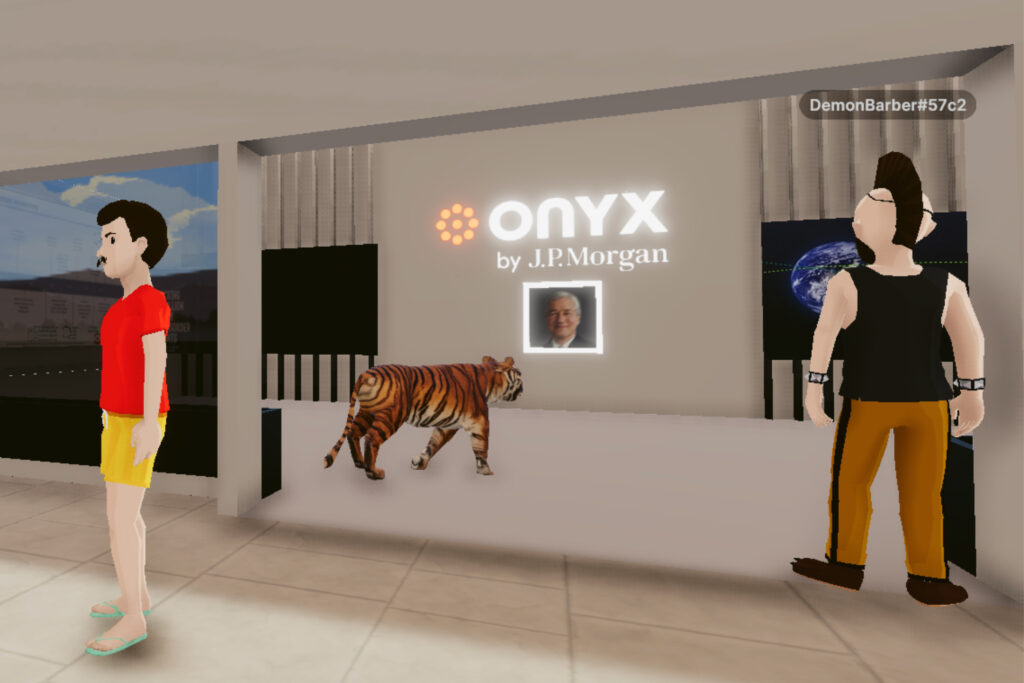 One of the largest banks in the world JPMorgan opened a virtual branch in the Decentraland metauniverse, becoming the first major financial institution that took such a step. The company explains it by the great potential of this direction.
The virtual office of JPMorgan appeared in the shopping center Metajuku. The office was named Onyx, after the bank's own blockchain platform.
A digital tiger and a portrait of JPMorgan CEO Jamie Dimon meet guests inside the "room". Visitors can also listen to a presentation about the crypto-economy.
$54 billion was spent on virtual goods in 2021
"In the coming years, metacommerce will penetrate every sector, and its market potential exceeds $1 trillion annually … The virtual real estate market could see the same services as in the real world, including loans, mortgages and leases," the bank said.
JPMorgan also noted that $54 billion was spent on virtual goods in 2021 – twice the amount spent on buying music. And by 2027, in-game ad spending will rise to $18.4 billion.
Thanks to the promise of this sector, many world-renowned brands have entered the meta-universe. Such giants as Walmart, Gap, Verizon, Hulu, PwC and Atari have already opened stores in this space.
In addition, in the second half of 2021, the value of virtual land in the four major metacities has doubled. Now the territory in Decentraland, Sandbox, Somnium Space or Cryptovoxels can be bought for $12 thousand on average.
Such interaction opens up huge economic opportunities. The advantages include the democratic nature of the economy and the lack of attachment to a single platform or brand.
JPMorgan believes that the widespread introduction of meta-villages will be due to interest from large brands. As an example, the experience of retailers Adidas and Nike, as well as the techno-giant Samsung.
However, not everything turned out so rosy. The bank's report states that metasearch still needs to develop and improve key areas such as avatar functionality, complexities with commercial infrastructure and strive to improve the overall user experience.
It was previously reported in the media that one of the territory sectors in the NFT game Axie Infinity was sold for 550 Ethereum tokens in 2021, which at the time of the deal was $2.33 million. This was an absolute record for the project.