Bitcoin is preparing for a new rally.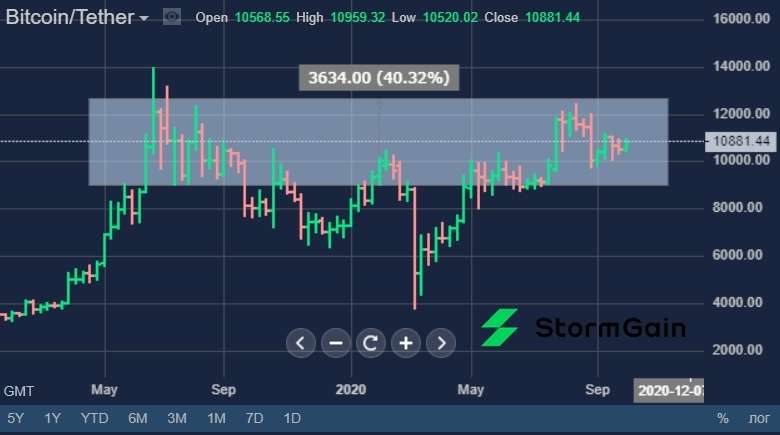 For the past two months, the Bitcoin price has been consolidating around $10 000 without obvious signs of a breakthrough in one direction or another. Last fall, cryptocurrency from these levels went into another correction. However, now there are several fundamental factors that speak in favor of future growth.
The Chicago Mercantile Exchange (CME) recorded the 300% growth in Bitcoin options trading. Traders bought call options at $14 000 expiring in December and simultaneously sold December expiring calls at $16 000. Similarly, options expiring in March 2021 were bought for $18,000 and March's sold for $20,000.
Simply put, a number of traders have hedged their positions on CME, suggesting a further increase in Bitcoin's value. But, according to their estimates, growth will be moderate and not exceed $16 000 in December, and the price will be below $20 000 in the first quarter of 2020 year.
The second bullish factor is the reduction in Bitcoin's supply on spot exchanges, which was recorded by the analytical groups CryptoQuant and Glassnode. This suggests that buyers come to the exchanges, but after buying Bitcoin move them to their cold wallets.
The same accumulation of Bitcoin in cold wallets was recorded at the end of 2016, after which the cryptocurrency demonstrated a powerful rally, reaching its value at $20 000.
The supply reduction, as we see on the chart above, is recorded by all large cryptocurrency exchanges. Analyst Willy Woo believes that the market is in the accumulation phase, and the price will respond to the indicated trend with rapid growth towards the end of this year.
One of the reasons why positions in Bitcoin are accumulating right now may be the decline in interest in DeFi projects. Cautious investors record their profits from the explosive growth of young coins, transferring funds to a more reliable Bitcoin.
A third factor in the growing interest in buying and holding Bitcoin is the high political and economic uncertainty in the United States. Donald Trump has suspended the deployment of another incentive program, urging Americans to vote for it in order to receive additional payments. At the same time, Fed head Jerome Powell insists on the immediate deployment of additional stimulus measures. All this does not add points to the US dollar, the country's public debt this year will exceed the size of the entire American economy. The last time such high values ​ ​ were recorded in 1946 after the end of World War II.
The increase in the size of the debt increases the amount of payments for it, which in the near future will lead either to an acceleration of inflation (while maintaining state spending at a high level) or to a severe reduction in budget funding. Be that as it may, Bitcoin with its decentralized nature looks much preferable against this background.